This Product Features
Drug-Free
Evidence-Based
Fragrance-Free
GMP Certified
Vegetarian
Skip the itching, enjoy the suds:
As estrogen declines, we see both a drop in moisture and collagen in our skin. This can cause skin to feel and appear dry, less plump, and even thicken in areas. Our skin is less protected against the elements like wind, cold, or detergents, which can lead to dry itchy skin. Nourish's ingredients cleanse without stripping very-needed moisture from your skin.
Most body washes contain fragrances or unnecessary ingredients that can irritate our most sensitive areas. Our Body Wash is made with natural elements specifically chosen to moisturize your body without angering your vulva. Because we shouldn't have to worry about itching for a week just because of one misplaced soap drop. Get dirty, suds up, and enjoy the shower.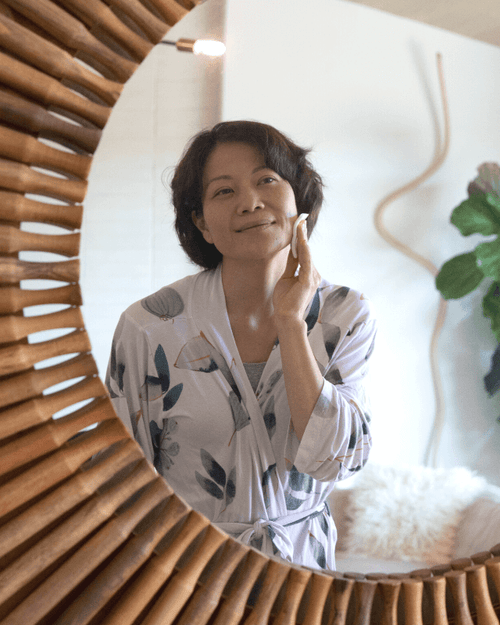 Women aren't new to hormone changes affecting our skin and hair.
Unfortunately, collagen decreases even more after you reach menopause. It begins roughly one year after your last period and can bring with it some skin changes you may not be used to. Hormone levels will plummet, and you may notice that skin on your face gets dryer, duller, and thinner. You may also experience thinning of hair on your scalp but an increase in facial hair in menopause. Which makes menopause skin care that much more important.
Ingredients
Water (Aqua), Sodium Lauroyl Methyl Isethionate, Sodium Cocoyl Isethionate, Cocamidopropyl Betaine, Disodium EDTA, Gluconolactone, Hydroxypropylcellulose, Lactic Acid, Sodium Benzoate
Technical Information
Massage a small amount of Gennev Nourish Body Wash into the palm of your hand or onto a sponge or washcloth, and gently lather over skin. Rinse well.

Caution: For external use only. Avoid contact with eyes. If contact occurs, rinse eyes with water. Keep out of reach of children.

Statements regarding dietary supplements have not been evaluated by the FDA and are not intended to diagnose, treat, cure, or prevent any disease or health condition.
Estrogen fluctuations can cause loss of collagen.
In menopause, skin loses elasticity and hydration and becomes thin, dry, and loose. Many women find they have acne again, for the first time since puberty. Skin becomes more prone to rashes and bruising and may heal more slowly. Read more.
Nourish is pH balanced to prevent any irritation.
pH balanced to maintain natural chemistry. Intended for painful intimacy, menopause dryness, intimate dryness and itching.
Get clean without an overflow of bubbles.
Low-sudsing and rinses off completely, leaving you fresh and silky smooth.
This body wash is not meant to clean your vulva.
Vaginas are self cleaning, so skip the douche and the fragrance-heavy washes and let it take it's natural course. Read more.
There are lifestyle modifications that can further help skin changes
Probably the best thing you can do for skin and hair is to protect what you have. Reduce sun exposure. Use gentle products that don't strip away the remaining moisture. Hydration is huge. Drink plenty of good, nutritious water to hydrate your body from the inside out. Don't smoke. Shower with cooler water for less drying of your skin.
Nourish: Ultra-Gentle pH Balanced Body Wash (get clean without the irritation)
Nourish: Ultra-Gentle pH Balanced Body Wash (get clean without the irritation)
Great!
Gently cleans leaving you fresh and clean
Fresh without Fragrance
I really do love the Nourish wash! I try to order it as often as possible, but my only issue is that every time I receive it the cap has come loose (probably during shipping) and at least half of the Nourish has spilled out into the packaging. I have started ordering two in has not leaked and so far so good.
Satisfied customer
I have used the balanced body wash for a long time with great results. No harsh ingredients and has always been refreshing and soothing.
Really Love This Stuff!
This is my second bottle and I will be buying more. Doesn't dry out my skin. Gentle on my female parts.
Gentle Body Wash
So far I love it. No irritation whatsoever and that says a lot for me.
It Works!
I have been having problems with menopausal odor and this seems to be helping. I will purchase again soon!